Kill Syndrome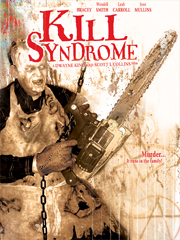 Total with Shipping: $15.59 USD
Murder...It runs in the family!

Kill Syndrome
Murder, It runs in the family!
Deep in the backwoods of rural Arrowood County, a depraved, inbred family of degenerate psychopaths torture and kill innocent victims. Led by a cannibalistic monstrosity named Freakshow, they record their crimes on video and sell the brutal, blood-drenched snuff films to The Man. Five unsuspecting travelers fall prey to this twisted clan of serial predators in a gruesome, gore-dripping thriller styled in the tradition of 70 s horror classics such as The Texas Chainsaw Massacre and The Last House on the Left.
Product Information:
Title: Kill Syndrome
Format: DVD
Release Date: 11/06/2007
Rating: NR
Recording Mode: 4x3 (Full Screen)
UPC: 769529966838
Produced: 2006
Director: Dwayne King and Scott L. Collins
Cast:
Bracey, Wendell Smith, Leah Carroll, Jenn Mullins, Evelyn Angelo, Kandi Ranson, Paco, Matt Brumbley, Collin Landers, C.C. Spencer, James Aikido Burgess & Dwayne King.
Running Time: 70 Min
Aspect: 4x3 (Full Screen)
DVD Features:
Interactive Menus, Scene Selection, Full Screen Presentation, Photo Reel, Audio Commentary, Music Video, Behind The Scenes, Deleted And Lost Scenes, The Jesus John Show Short, Trailers On B.D.F. Movies, Gore Hound Information



Copyright 1999-2013 Kluckin Films
DISCLAIMER: KLUCKIN FILMS DOES NOT CONDONE OR ENDORSE VIOLENCE, DRUG USE OR OTHER ILLEGAL ACTIVITIES.
It's only a movie!!
Films, Kluckin Films, small, 1999,2008,2007, Kill Syndrome, friends, close knit, group, Founded, SC, Beach, Myrtle Beach, severed heart, company, motion picture production company, DVD, Independent Film, Interactive Menus, Nightmares, Freakshow, Freak, Show, Director, Dwayne King, Actor, actress, Priestess Kandi Ranson, Ranson-King, Priestess, Wendell Smith, Leah Carroll Myers, Jeff Bracey, Bracey, CANNES, Brain Damage Films, Bikes, Babes, Burnouts, cannibal, 18, Gateway, Independent Filmmaking, Grand Strand, SC, SURFING, Copyright, DISCLAIMER,CONDONE VIOLENCE, Last updated, Kluckin Films Monday Midnight Massacre Radio show, shop, Cafe Press, support, horror fan, shops, Entertainment News, Casting Call, About Us, Purchase Kluckin Films, SPONSOURS, Videos, Chat, Newsletter, Events, Behind The Scenes, FREE~E-Mail, Contests, blogtalkradio, Movies News Feeds, DISTRIBUTER, Music, artists, accepting submissions, motto, Founder, Co-Founder, Member, Yuwie, Pizza Guy, Rob Zombie, Short Horror Film Contest, 101.7 WKZQ, wrestling, WWE, horror movie, horror film, snuff film, cluckin films, klucking films, ghost, ghost of 645, independent, filmmaker, independent filmmaker, freaky Friday, horror, gore ,clucking films, smack down, raw, Hulk Hogan, T-Shirt, WWEShop, Raw/Smackdown, 2008 Official Strategy Guide, Game secrets, copy, wall clock, Steel Horse, Dog House, journey, businesses, Club House