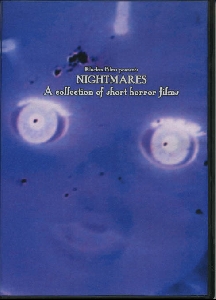 $9.99 (+ SHIPPING)

IN-STOCK: Ships immediately

MPAA Rating: R
Release Date: 11/30/1999
DVD Region: All

Run Time: 50 minutes

Audio Languages:

english

Subtitle none

Copyright: Dwayne King
Studio: KLUCKIN FILMS
Directed By: Dwayne King
Written By:Dwayne King & Scott Collins
Film School: Hard Knocks
Synopsis
Five Tales of BLOOD & Gore like you've never seen before.Once you enter the Nightmare world of KLUCKIN FILMS you will never be the same again.The lead singer from GWAR says these guys are Sick & Twisted!!!
Casts & Bonus
Casts:

D.IVY......Mister Dreadfull
Laruie Gero....PIGGY
Wendell Smith..Pizza Guy
Kevin Doyle....The Creep
Jodi Tyson.....Vampire Doslather

Suzanne Brown...Box Owner

Jody Tyson...Various Parts

Suzie Guy..Ice Cream Shop Patron

Jamie Guy... Lighting

Bobby Marks... Ice Cream Shop Guitar Player

Bonus:

trailers & music videos plus scenes from the uncomplete film BERSERKER!

Now you can get your Kluckin Films Merchandise like T-shirts,Hats, Thongs, Mugs, & all kinds of Klucked up goodies!!!

We even have available Shirts for your Pets!
Awards
PIGGY:
winner of the first ever WKZQ 101.7 & ROB ZOMBIE Short Horror Film Contest!



Copyright 1999-2013 Kluckin Films
DISCLAIMER: KLUCKIN FILMS DOES NOT CONDONE OR ENDORSE VIOLENCE, DRUG USE OR OTHER ILLEGAL ACTIVITIES.
It's only a movie!!
Films, Kluckin Films, small, 1999,2008,2007, Kill Syndrome, friends, close knit, group, Founded, SC, Beach, Myrtle Beach, severed heart, company, motion picture production company, DVD, Independent Film, Interactive Menus, Nightmares, Freakshow, Freak, Show, Director, Dwayne King, Actor, actress, Priestess Kandi Ranson, Ranson-King, Priestess, Wendell Smith, Leah Carroll Myers, Jeff Bracey, Bracey, CANNES, Brain Damage Films, Bikes, Babes, Burnouts, cannibal, 18, Gateway, Independent Filmmaking, Grand Strand, SC, SURFING, Copyright, DISCLAIMER,CONDONE VIOLENCE, Last updated, Kluckin Films Monday Midnight Massacre Radio show, shop, Cafe Press, support, horror fan, shops, Entertainment News, Casting Call, About Us, Purchase Kluckin Films, SPONSOURS, Videos, Chat, Newsletter, Events, Behind The Scenes, FREE~E-Mail, Contests, blogtalkradio, Movies News Feeds, DISTRIBUTER, Music, artists, accepting submissions, motto, Founder, Co-Founder, Member, Yuwie, Pizza Guy, Rob Zombie, Short Horror Film Contest, 101.7 WKZQ, wrestling, WWE, horror movie, horror film, snuff film, cluckin films, klucking films, ghost, ghost of 645, independent, filmmaker, independent filmmaker, freaky Friday, horror, gore ,clucking films, smack down, raw, Hulk Hogan, T-Shirt, WWEShop, Raw/Smackdown, 2008 Official Strategy Guide, Game secrets, copy, wall clock, Steel Horse, Dog House, journey, businesses, Club House